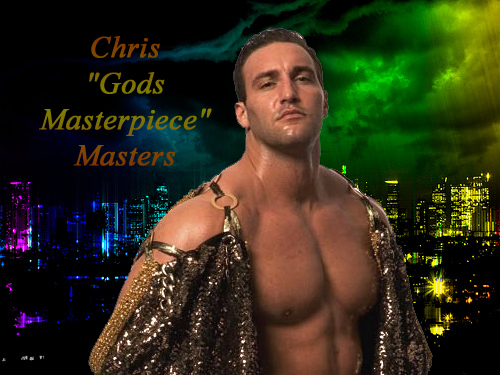 | | |
| --- | --- |
| NAME: | (Chris Masters) |
| RECORD: | (5-3) |
| TITLES: | (TNA WORLD CHAMPION) |
| STABLE: | (GODS PERFECT MASTERPIECE TEAM) |
| FINISHER: | (Master Lock) |
| WRESTLER TYPE | (HEEL) |
| NEXT GODS WRATH VICTIM: | Bret Hart |

((SCENE))
((Opens up showing Chris Masters Winning the TNA World Title))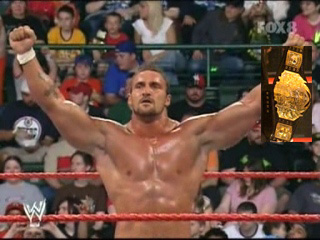 [[Voice]]
Get ready fans to see the new TNA World Title on the show tonight. Change is coming tna wont be the same again. Enjoy the new TNA Champion Chris Master.

(SCENE))
(((Camera its showing Don West and Mike Tenday setting in there ring announcer table)))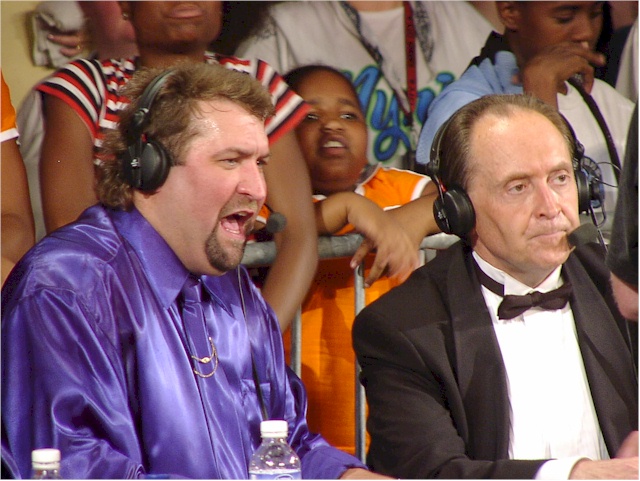 [[Mike Tenday]]
Welcome fans to tna to a historic night. Last Sunday night tna witness as we crown a new TNA Champion Chris Masters. That was one off the best matches for the heavy title I ever saw. Bret heart was just few seconds away from retaining the world title till jeff jerrett hit the guitar on bret heart. Chris Master saw the moment and lock the master lock
[[Don West]]
TNA wont be the same again. This man will be the world title for a long time to come. He proved the hole world that he belong in the main event.
[[Mike Tenday]]
Wonder what Chris Masters the new tna champion has to say. This Thursday at impact he will have his first defend off the world title against the old world champion Bret heart. Not going to be another easy match. If he beats bret heart then his name will be all over.
[[Don West]]
Whar does tna thinking putting Chris masters again against his friend bret heart and the world title that he just on. How do we not know bret heart will try to hurt Chris masters and do what ever it takes to win the world title? I don't like this match.
[[Mike Tenday]]
West tna is all about being the best they put the best match every impact and ppv.
[[Don West]]
faced Bret heart is Chris masters time your time is done. Be happy you ever held a title here period.
[[Mike Tenday]]
Fans I hear Chris masters the new world champion music that means his on the way.

[[Ring Announcer]]
Please welcome At this time the new TNA WORLD CHAMPION CHRIS MASTERS.
(All Eyes On M Starts playing by Limp Bizkit all over the pa system then Chris Masters heads to ring with the fire works going off in the background)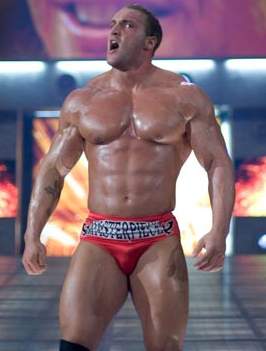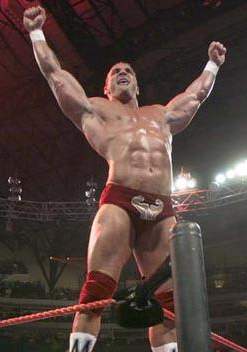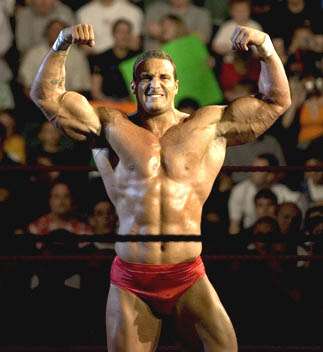 ((SCENE)
(((Chris Gods Masterpiece Masters picked up a mic))))
(SCENE))
(((Fans starts too Bo for he starts to talk.)))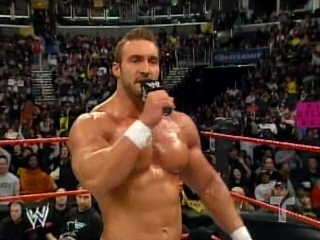 [[Chris Masters]]
I can believe you still boo. Go head and boo me you all should be a shame off self calling your self tna fans. I really don't care about all off you I hold something you all wish you had and that is the tna world champion. Hell none off you will ever look like me or have a perfect 6 pack like me. You see now that IM the tna new champion I will hold till I retire. Because all I see in the lock room are has beens. Jobbers, punks, and cry babe's. None them got any changes off pin me or beating me in the middle of the ring. This world title is now the hands off Chris masters. The man the myth the legend.
[[Chris Masters]]
TNA look at the man who finally has gold around his waste thats right its me Chris Masters. This is the second best thing that ever happen in my life beside being born and handsome. I told the hole world the only way to get respect in tna is to win a big one and wear gold around you. They said chris you would never win a big one after wwe fired me. There where all wrong because last Sunday night I become a major player in tna I took away and won the tna world from bret heart. Nobody gave me a change in Los Vegas I was 1 too 1000 to win the title. There where wrong too. You see tna needs a change and shake things up and guess what it. Chris masters is the new TNA WORLD CHAMPION. After the camera when off the air bret heart and my friend he shook my hand because me and him respect each other. We knew what ever happened in are match are friendship wont be broken.
[[Chris Masters]]
Bret my man at impact we are doing again for my tna world title. This will be my first defends against you. This time is one on one no jeff jerrett. This time we can found out who really should won the match. And of course was me . Bret heart they call you a hit man because you take out every body who steps in the he ring with you. There all where past there primes. Now you step in the ring with god knows as Chris masters. You see you may have the sharp shooter but I have a better finish called the master lock. Once is in there is no way out. Bret don't be mad because you lost the world title to me hell we are in the same stable. Let the best man win.
[[Chris Masters]]
At impact all eyes will be on me. The tna world champion ill walk in as a champion and walk out as a champion. Nobody would ever stop the god. See you all at impact..
(((Chris Masters drops the mic and hits song starts playing here come All eyes on me starts playing then he leaves the ring and goes back to his locker room)))

((SCENE))
(((Camera goes back showing Don West and Mike Tenday setting in there ring announcer table)))
[[Mike Tenday]]
Now we now what happen to Chris masters. And let me be the first to say tna rating hasnt when down we still on top. I hope they will make chris masters pay for what he said.
[[Don West]]
Chris Masters will still be the world champion after impact. His better then bret heart 100%. Master lock will end bret heart.
[[Mike Tenday]]
Will fans we are out off time. Please joy us this thuresday at impact see you next time.